Piano Lessons
in Your Home
In-home piano lessons for all ages and skill levels. Study with fun and experienced teachers from the comfort of your home.
At-Home Piano Lessons in Metro Vancouver
We provide high quality in-home piano lessons throughout Vancouver and the Lower Mainland. We make it easy for you and your loved ones to receive the finest music education without having to leave your front door. So whether you're a complete beginner or have already been playing the piano for many years, our teachers are well-equipped to get you where you want to be.
---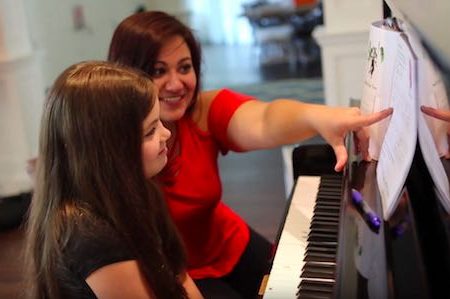 Piano Lessons Tailored to You
We teach a variety of different styles, such as classical, jazz, blues, pop, rock, and more. We'll assess your interests and match you up with a piano teacher who has the expertise to help you excel in the style you most enjoy.
Lessons cover a wide variety of musical topics, such as proper technique, sight-reading, theory, and performance. We also provide instruction to those who are interested in moving up the Royal Conservatory grade levels and preparing for exams.
---
Registration
At Resound, we believe that every student is unique. So before starting your piano lessons, we would love to meet with you for a free consultation. The consultation is an opportunity for us to assess you or your child's unique goals, interests, personality, and learning style. Then based on this information, we'll hand-pick the very best piano teacher for you!
---
Locations
Having piano lessons from your home is a convenient solution for busy families. We're proud to offer lessons throughout the Metro Vancouver area. Below is a list of all the locations we serve.
If your city is on this list, then we'd love the opportunity to serve you! Simply click the link below to request a free in-home consultation.
---
Frequently Asked Questions
What ages do you teach?
We teach both children and adults, ages 5 and up.
How often are the piano lessons?
We schedule piano lessons to recur on the same day and time each week, except for stat holidays and Winter Break.

You can view our school calendar here.
How do you choose your piano teachers?
We are very selective about the piano teachers we hire at Resound. Because of this, we accept less than 5% of candidates who apply. All our teachers are vetted based on their experience, education, and most importantly, their ability to teach.

Lastly, before we schedule them for lessons, all teachers are subject to an RCMP criminal record check.
How much are piano students expected to practice?
This answer varies greatly depending on the student and their goals. That being said, we recommend making piano practice a consistent part of your daily routine. You'll notice far more progress from shorter, regular practice sessions every day, than from longer practice sessions a couple of times per week.
---
"Highly recommended. Our daughter's piano teacher is phenomenal. He's gentle and patient, yet knowing when to push further. Couldn't imagine getting lessons from anyone else."
– Ted Jardine
"It's a pleasure watching my daughter learn to play piano. The teacher comes to our home each week, is so playful and encouraging, and my child is already learning to play some tunes. I'm so glad I found Resound School of Music!"
– Zahra Esmail
---
Book your free consultation for piano lessons!
If you are looking for local piano lessons in Metro Vancouver, then contact us today! We offer a 100% satisfaction guarantee, so if you're not completely satisfied with your first lesson, we will work with you to assign you a new teacher at no additional cost. Join the hundreds of others who have discovered the Resound difference.