Lesson Rates
Select the right option for your needs.
All plans include travel and applicable taxes.
30 Minutes
---
avg. $176 per month
---
Weekly Lessons in Your Home
---
---
---
Learn a Variety of Styles
---
45 Minutes
---
avg. $236 per month
---
Weekly Lessons in Your Home
---
---
---
Learn a Variety of Styles
---
Beginner to Intermediate Levels
60 Minutes
---
avg. $304 per month
---
Weekly Lessons in Your Home
---
---
---
Learn a Variety of Styles
---
Intermediate to Advanced Levels
---
Special Discounts and Promos
Looking for ways to save on your music lessons? Check out some of our awesome discounts and promos.
Annual Plans
Our annual plans offer big savings when you sign up for a full year of music lessons. With our annual plan savings, you'll get 12 months of lessons for the price of 11 months, essentially getting 1 month free each year!

Please note that annual plans require a consecutive 12-month commitment from the student. Early termination will result in a cancellation fee.

•  30-minute lessons: $40.33 per lesson
•  45-minute lessons: $54.08 per lesson
•  60-minute lessons: $69.66 per lesson
Resound Family Discount
The Resound Family Discount is available for households with multiple students registered in music lessons. Get a discount on all your music lessons when you sign up two or more students. Students must be from the same household to qualify.

•  30-minute lessons with family discount: $39.60 per lesson
•  45-minute lessons with family discount: $53.10 per lesson
•  30-minute lessons with family discount: $68.40 per lesson
Customer Referral Discount
At Resound, we want to reward you for helping us spread the word. For every one of your friends that you refer to Resound School of Music, we'll give you 10% off your monthly tuition plan as our way of saying thanks. In addition, your friends will also receive $50 off their first month simply for having great taste in friends.

Find out more about our referral rewards program here.
Resound School of Music Scholarship
In partnership with anonymous local donors, Resound is able to offer a limited number of scholarships designed to provide eager and high achieving students with a discount in their tuition costs.

To qualify, students must demonstrate a commitment to practice a minimum of 30 minutes for 4 days each week, and log their practice for their teacher to review each lesson. Scholarship discounts range between 10% – 40% off the cost of music lessons, and are reviewed on a quarterly basis.

If you believe that your family would benefit from and qualify for a scholarship discount,
contact us today.
---
Frequently Asked Questions
How long are your contracts?
There are none! Music lessons with Resound are billed on a month-to-month basis. If you wish to pause or discontinue lessons at any time, simply provide us with 30-days notice.
How often are music lessons scheduled?
Lessons are scheduled to occur once per week, with the exception of stat holidays and during winter break.
Why do you bill per month instead of per lesson?
At Resound, we like to think that your experience with us extends beyond just the time spent in the lesson. Consider your monthly rate to be your membership fee to an exclusive club! As a member you get the royal treatment – a handpicked teacher to drive to your home each week, along with an individually prepared and personalized learning path designed just for you or your child.

A flat monthly tuition rate enables us to provide a healthy income to our teachers and consistently deliver the kind of value our customers have come to expect. Plus you get the added benefit of always knowing what your lesson costs will be, making it easier for you to budget for music lessons each month!
How do you calculate your monthly tuition rates?
Monthly lesson rates are calculated based on the average number of lessons received per month. While most months will have 4 lessons, others might have 5. To keep things simple, we've averaged your lesson costs into a flat monthly rate.
Do your prices include tax and travel?
Yes, all plans include travel and any applicable taxes. There are no surprises or hidden fees.
Is there a registration fee?
We have an annual administration fee of $35 per student. This helps to cover the cost of student binders, photocopies, and hosting our annual student recitals.
Is there a discount for a yearly service?
Yes! We offer an annual plan for a discounted price. They offer the best value for any serious student. They require a 12-month commitment to music lessons.
Do I have to pay for the entire year if I choose the annual plan?
Nope! Payments for the annual plan can still be made on a monthly basis.
Can I switch plans?
Yes, you can switch plans at anytime. Simply email us to update your plan or lesson length. If you have an annual plan and wish to terminate it early, you may be subject to a cancellation fee.
What payment methods do you accept?
We accept VISA, VISA debit, Mastercard, and American Express. Unfortunately, we do not accept cash or cheques.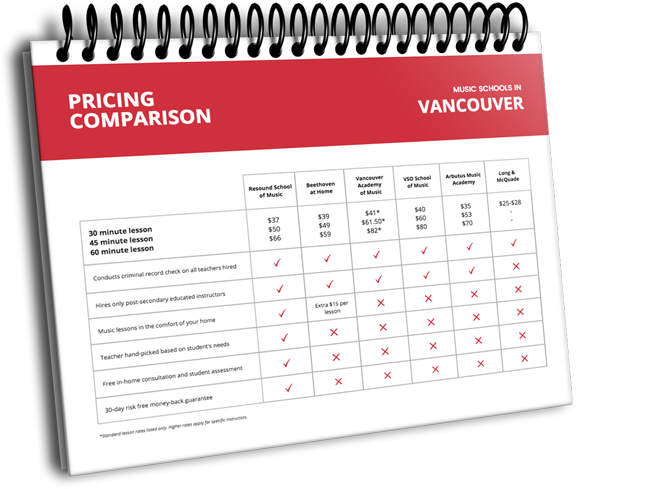 See how we stack up to the competition! Download our FREE music school pricing comparison guide!